20 Hours Wheel Yoga Training Certification Course
17 January 2023, Tuesday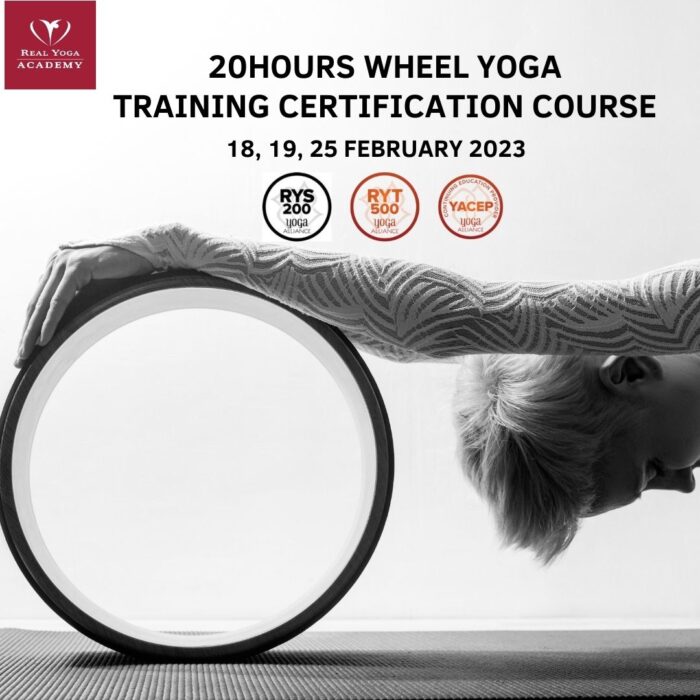 Course Outline
Yoga wheel is created by New York based yoga guru Dharma Mitra. This is the most beautiful yoga props ever been created. With this props anyone can learn to bend backwards effortlessly.But the wheel is not limited to backbend only. At Real Yoga, we have designed our yoga wheel classes to suit different levels of practice, from beginners to therapy, for balance and stretching, for backbend as well as for advancing the practices.
Practicing may not be enough, Why not sign up for our upcoming Yoga Wheel Training Certification Course and level up your practice with the knowledge and skills to deepen your practice as well as to teach yoga wheel classes?
Our course is structured to cover the following:
*Yoga Wheel Philosophy
*Human Spine Anatomy
*Teaching Methodology and Sequencing
*Teaching Methodology and Different Body Types
*Yoga Wheel Adjustments
*Self Practice
The course will be conducted by Master Saumik, Teachers Kumar, Chandan and Vishal. It consists of 15hours practical learning and 5hours practice and sharing sessions.
Who Should Attend
Suitable for everyone
Schedule
18, 19 February – 9am to 12pm, and 2pm to 5pm
25 February – 2pm to 5pm
Location
Real Yoga Academy @ 114 Lavender St
#06-78 CT Hub 2 Singapore 338729
CANCELLATION & REFUND POLICY
We seek your cooperation and kind understanding of our cancellation policy.
To ensure a fair and systematic allocation of slots, all courses are strictly non-refundable upon confirmed registration.
In the event that you are unable to attend for any reason, kindly call or email Real Yoga Academy as soon as possible so that your place may be offered to someone else.
Under special circumstances with valid reasons, you must, in order to receive a full refund (not inclusive of a 5% admin fee), notify Real Yoga Academy at least 7 working days prior to the date of the course. A 25% cancellation fee will be imposed for cancellations made 48 hours prior to the courses. Unfortunately, cancellations made less than 48 hours prior to the courses will not be eligible for refunds.
Alternatively, you may be able to transfer the payment to a different course. This is offered at the discretion of Real Yoga Academy's management. In the event that a transfer is agreed upon between both parties, it is understood that no further refunds or transfers will be permitted.
Should a course get cancelled by Real Yoga Academy, you will receive a full refund of the course's fee (not inclusive of a 5% admin fee).
Real Yoga Academy will not be responsible for any form of unforeseen circumstances that unable the participants from attending the registered courses.
We strongly recommend that you attend the scheduled number of sessions once you have committed to the course/courses/courses to get the most out of the programme.