4D3N Retreat to Chiang Mai by Master Adi
6 March 2019, Wednesday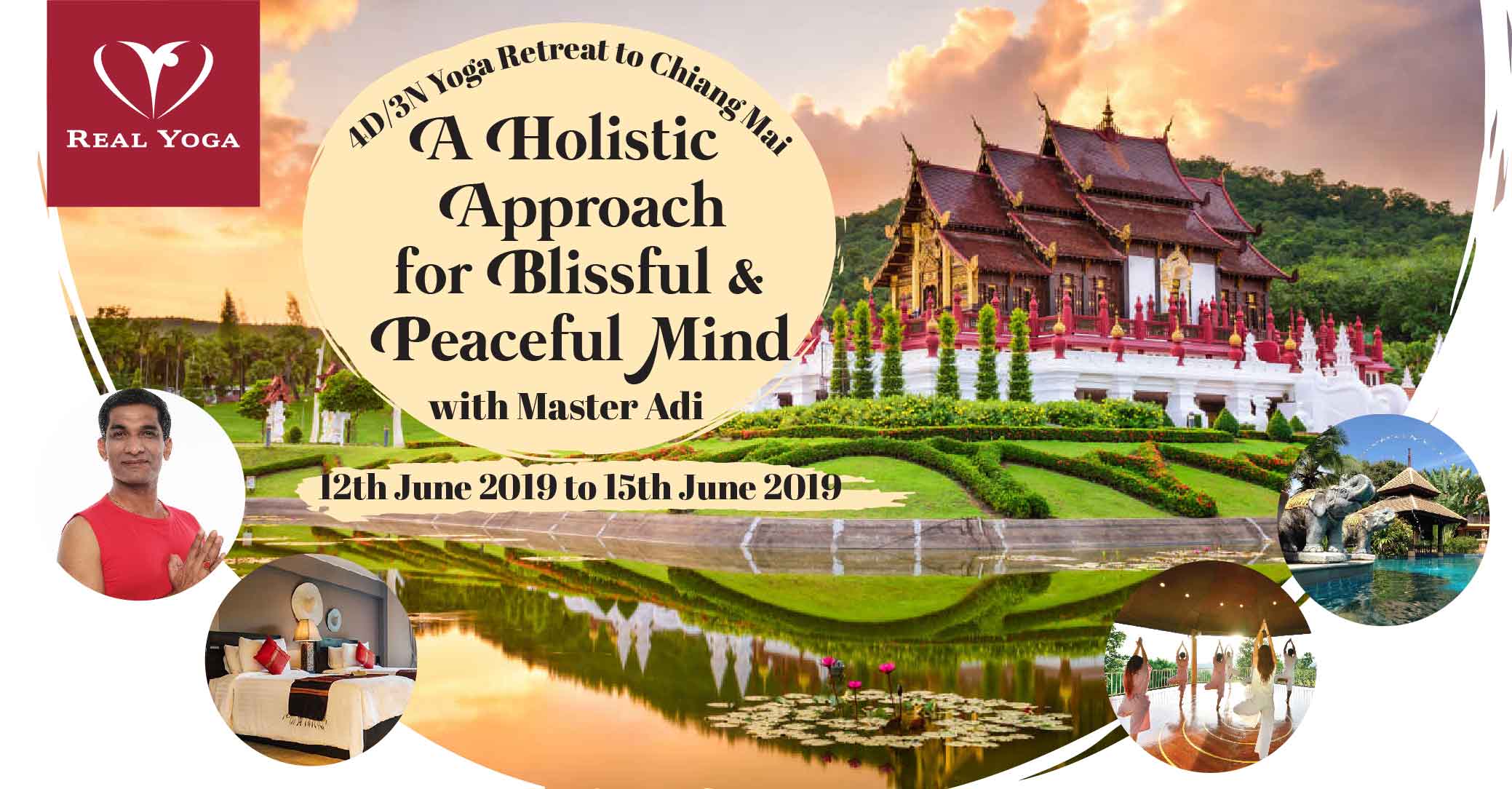 Dates: 
12th to 15th June 2019
Venue:
The Pavana Chiang Mai Resort
196M, Hua Sai, Mae Rim
Chiang Mail 50180, Thailand
Itinerary (subject to changes):
12th June 2019
1.30pm to 2.30pm – Welcome Lunch
5.00pm to 6.30pm – Evening yoga & meditation class
7.00pm – Dinner
13th June 2019
7.00am to 8.30am – Morning yoga class
8.30am to 9.30am – Breakfast
10.30am to 12.30am – Yoga Workshop
1.00pm to 2.00pm – Lunch
2.00pm to 5.00pm – Free & Easy
5.00pm to 7.00pm – Evening yoga & meditation class
7.30pm – Dinner
14th June 2019
7.00am to 8.30am – Morning yoga & pranayama class
8.30am to 9.30am – Breakfast
10.30am to 12.30am – Yoga Workshop
1.00pm to 2.00pm – Lunch
2.00pm to 5.00pm – Free & Easy
5.00pm to 7.00pm – Evening yoga & meditation class
7.30pm – Dinner
15th June 2019
7.00am to 8.30am – Morning yoga & meditation class
8.30am to 9.30am – Breakfast
10.00am to 11.00am – Q&A
12.30pm – Check out
1.00pm to 2.00pm – Lunch
2.15pm – depart for airport
Price:
$1,350 normal price
Limited seats only, register NOW!
T&C:
* Prices are including accommodation (based on twin/double-bedded sharing basis only), airport transfer, all meals, yoga classes and workshops.
* Prices are EXCLUDING flight, visa and travel insurance.
* Single occupancy top up S$300.
* Payment by CASH, CHEQUE OR NETS only. Additional 5% surcharge for payment by credit/debit card.
* Master Adi will travel by Silkair flight, departing on 12th June 2019 at 8.25am (Singapore to Chiang Mai), and return by Silkair flight, departing on 15th June 2019 at 11.20am (Chiang Mai to Singapore). 
*Real Yoga Pte Ltd reserves the right to use any photograph/video taken at the retreat, without the expressed written permission of those included within the photograph/video. Real Yoga Pte Ltd may use the photograph/video in publications or other media material produced, used or contracted by Real Yoga Pte Ltd including but not limited to: brochures, invitations, books, newspapers, magazines, television, websites, etc.