5D4N Retreat to Boracay with Amrit
11 July 2019, Thursday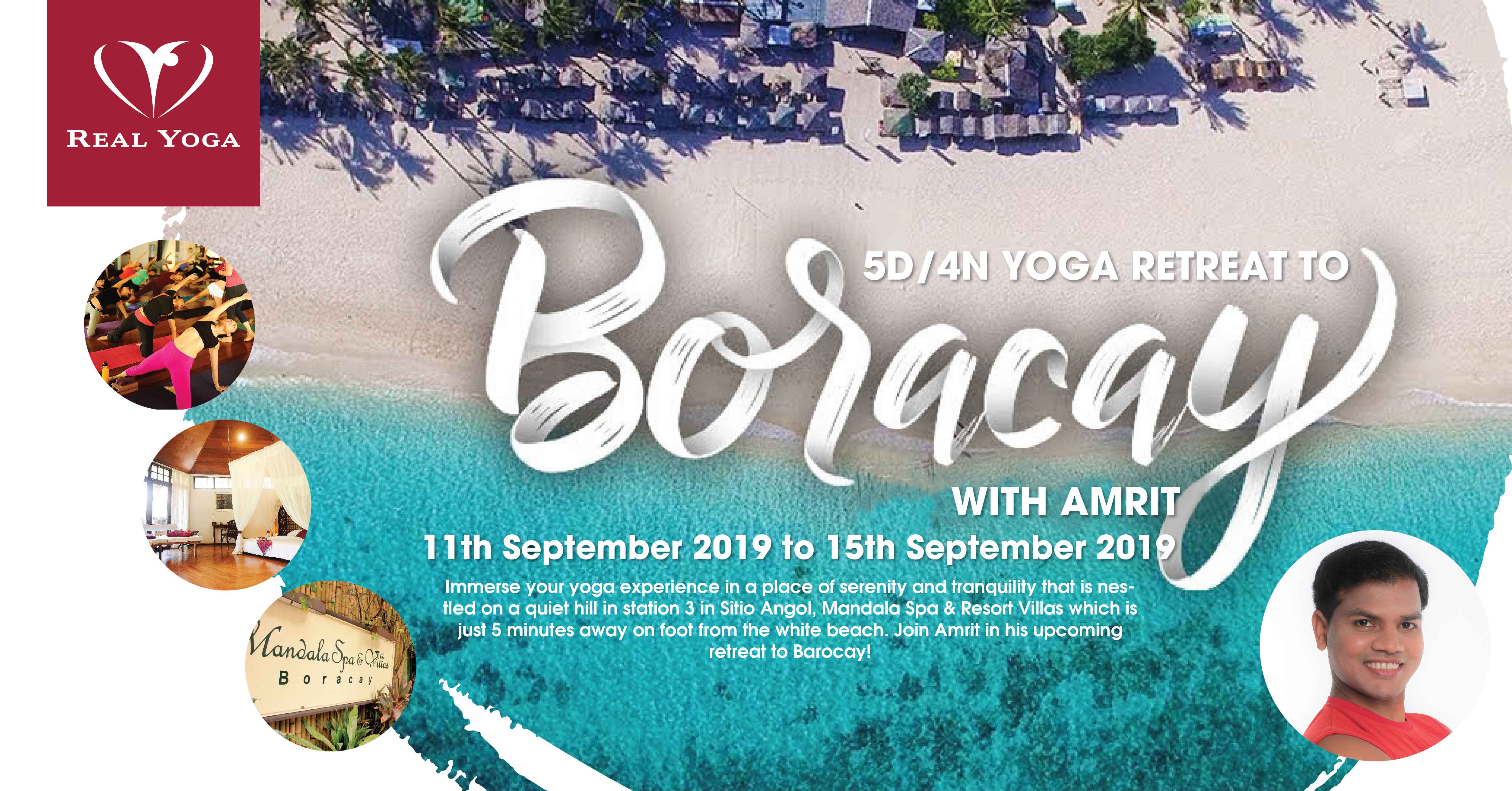 Dates:
11th September 2019 – 15th September 2019
Venue:
Mandala Spa & Resort Villas Boracay
Barangay Manoc-Manoc,
Boracay Island, Malay,
5608 Aklan, Philippines
Itinerary (subject to changes) :
11th September 2019
12.30pm – Arrival at Resort
1.00pm – Lunch
2.00pm to 4.00pm – Check-in And Free & Easy
4.30pm to 6.30pm – Welcome & Evening Yoga Class
7.00pm – Dinner
12th September 2019
7.00am to 8.30am – Morning yoga class
8.30am – Breakfast
10.30am to 12.30pm – Yoga Workshop
1.00pm – Lunch
4.30pm to 6.00pm – Evening yoga class
7.00pm – Dinner
13th September 2019
6.30am to 8.00am – Morning yoga class
8.30am – Breakfast
10.30am to 12.30pm – Yoga Workshop
1.00pm – Lunch
2.00pm to 5.30pm – Free & Easy or Optional Shopping Trip
6.00pm to 7.30pm – Evening yoga class
8.00pm – Dinner
14th September 2019
7.00am to 8.30am – Morning yoga class
8.30am – Breakfast
10.00am to 12.00pm – Free & Easy
12.30pm – Lunch
2.00pm – 5.00pm – Free & Easy
5.30pm to 7.00pm – Evening yoga class
7.30pm – Dinner
15th September 2019
6.00am – Breakfast
6.30am – Check out and depart for return flight to Singapore
Price:
$2,200*
Limited seats only, sign up by 15th August 2019
* Price is including accommodation Mandala Spa and Resort Villa (based on twin-sharing basis), all meals, airport transfer, yoga classes and workshops.
* Price is EXCLUDING flight, visa, travel insurance.
* Single occupancy top up S$600.
* Payment by CASH, CHEQUE OR NETS only. Additional 5% surcharge for payment by credit/debit card.
* Amrit will travel by Philippines Airline, departing on 11th September 2019 at 12.30am (Singapore to Kalibo(Boracay) arriving at 8.40am), and return by Philippines Airline, departing on 15th September 2019 at 9.20am (Kalibo (Boracay) to Singapore arriving at 6.50pm).
*Real Yoga Pte Ltd reserves the right to use any photograph/video taken at the retreat, without the expressed written permission of those included within the photograph/video. Real Yoga Pte Ltd may use the photograph/video in publications or other media material produced, used or contracted by Real Yoga Pte Ltd including but not limited to: brochures, invitations, books, newspapers, magazines, television, websites, etc.