12-18 Oct 2023 Bhutan Retreat with Master Saumik (Registration Closed)
29 May 2023, Monday
Discover Happiness in the Land of the Thunder Dragon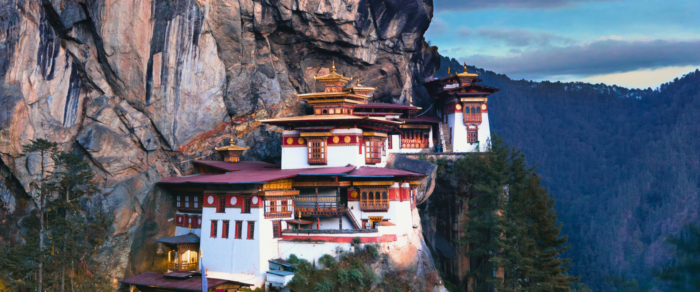 Date: 12th-18th OCT 2023
Usual Price (SOLD OUT)
Single Stay: S$ 6100 | Twin Share: S$ 5100
Early Bird Discount: (SOLD OUT)
Single Stay: S$ 5500 | Twin Share: S$ 4650 (Valid till 31 July 2023)
Resort: Naksel Boutique Hotel & SPA
Price INCLUDES
1. Daily 3 meals
2. Daily two yoga class
3. Heated room with full props
4. Yoga workshop
5. Airport transport
6. Local tour guide & all tickets
7. Visa and government royalty
***Flight ticket is excluded. Kindly book your flight ASAP as there are only 2 weekly flights from Singapore to Bhutan, with just one airline, Drukair serving this extraordinary destination
---
Flight Details
Depart: Drukair Airline
KB541: Depart from Singapore at 12.30PM ——-> Arrive Paro at 4.45pm
Return: Drukair Airline
KB540: Depart from Paro at 8.05AM ——-> Arrive Singapore at 4.10pm
---
Retreat Highlight
Luxurious Accommodation
Indulge in the comfort of a 4.5-star hotel, Naksel Boutique Hotel & SPA | Hotel in Paro | Bhutan Boutique Hotel with spacious rooms, modern amenities, and breathtaking views of the surrounding mountains.
Nourishing Cuisine
Savor a delectable array of high-quality, buffet-style meals featuring fresh, locally sourced ingredients. We will ensure that you enjoy a balanced and nourishing dining experience throughout your stay.
Inspiring Yoga Classes
Rejuvenate your mind, body, and spirit with daily yoga classes held in a dedicated studio. Experience the benefits of practicing in a heated room and make use of premium yoga props for optimal support and comfort.
Guided Yoga Workshops
Enhance your practice and deepen your understanding of yoga with insightful workshops led by experienced instructors. Explore various aspects of yoga, including alignment, pranayama (breathing techniques), and meditation.
Cultural Immersion
Immerse yourself in the vibrant culture and traditions of Bhutan with local tours led by knowledgeable guides. Visit ancient temples, monasteries, and the iconic Tiger's Nest, gaining a profound insight into Bhutan's spiritual heritage.
Hassle-free Experience
We take care of all the logistics, including airport transfers, visa arrangements, and government royalties. Sit back, relax, and let us ensure your retreat is stress-free from start to finish.
---
Retreat Itinerary
Day 1 – 12 Oct
Arrive in Bhutan via Druk Air***
Late afternoon: Check-in at NAK-SEL Resort
7:00pm: Dinner
Rest and relax
Day 2 – 13 Oct
7:30am: Morning Yoga
9:15am: Breakfast
11:00am: Yoga Workshop
1:30pm: Lunch
2:30pm: Rest and Relax
5:30pm: Evening yoga class
7:30pm: Dinner
Rest and relax
Day 3 – 14 Oct
7:00am: Morning Yoga
9:00am: Breakfast
10:00am: Chilala Pass Hiking Excursion (return by 5pm)
5:30pm: Evening Yoga Class
7:30pm: Dinner
Day 4 – 15 Oct
7:00am: Morning Yoga
9:15am: Breakfast
11:00am: Excursion to Thimphu Capital to visit huge Buddha Statue and enjoy shopping
5:00pm: Evening yoga class
7:00pm: Dinner
8:30pm: Meditation
Day 5 – 16 Oct
7:00am: Breakfast
8:00am: Leave for Tiger's Nest hiking excursion and lunch at cafeteria (return by 6pm)
6:30pm: Evening Yoga
7:45pm: Dinner
Day 6 – 17 Oct
8:00am: Morning yoga session
10:00am: Breakfast
11:00pm: Yoga Workshop
1:30pm: Lunch
2:30pm: Visit local market and Paro Town for shopping
6:00pm: Evening yoga class
7:30pm: Dinner
9:00am: Last Day Celebration party
Day 7 – 18 Oct
Morning: Breakfast
Departure to the airport
***Flight from Bangkok will arrive in morning hours, welcome at the airport by Dr. Karma Wanngchuk. 

Flight from Singapore will arrive in the evening. Please note that this itinerary is a suggestion and can be adjusted according to your preferences and any specific activities or attractions you may want to include during your Bhutan Paro yoga retreat.
Don't miss this opportunity to rejuvenate your mind, body, and soul amidst the breathtaking landscapes and serene ambience of Bhutan. Join us for an unforgettable yoga retreat and experience true happiness in the Land of the Thunder Dragon.
---
How to sign up?
1: Purchase your flight ticket
Please book your flight ticket before purchasing our retreat package. You can either purchase through Real Yoga (only valid till 15 June) or through respective flight ticket website.
2: Submit your Retreat Registration
Once your flight is confirmed, visit here to submit your registration.
3: Proceed payment for Bhutan Retreat Package
Once the registration form is submitted, please contact your consultant to proceed the payment.
4: Meet your Retreat Buddies!
Once Bhutan Retreat package payment is confirmed, all participants will be added into a WhatsApp Group for any follow up details.
---
FAQ
1. My spouse/family member will come with me but he/she won't join the excursions, what is the price charge for him/her?
Your spouse/family will be charged at same price.
2. What's included in the price?
Daily 3 meals
Daily two yoga class
Heated room with full props
Yoga workshop
Airport transport
Local tour guide & all tickets
Visa and government royalty
3. If I only have 1 person to join, can I purchase the twin room package?
Yes. We will try to get you a roommate.
4. Is there any prerequisite to join this retreat?
Flight ticket booking confirmation is required. Kindly book your flight ASAP as there are only 2 weekly flights from Singapore to Bhutan, with just one airline, Drukair serving this extraordinary destination.
5. What's the flight available on 12th and 18th October?
Depart flight on 12th Oct: Drukair Airline
KB541: Depart from Singapore at 12.30PM ——-> Arrive Paro at 4.45pm
Return flight on 18th Oct: Drukair Airline
KB540: Depart from Paro at 8.05AM ——-> Arrive Singapore at 4.10pm
If you have any questions, feel free to contact your consultant to proceed, or contact us at 6258 5118.