How Melina Adjusted to the Pandemic with Breath and Mindfulness
26 June 2021, Saturday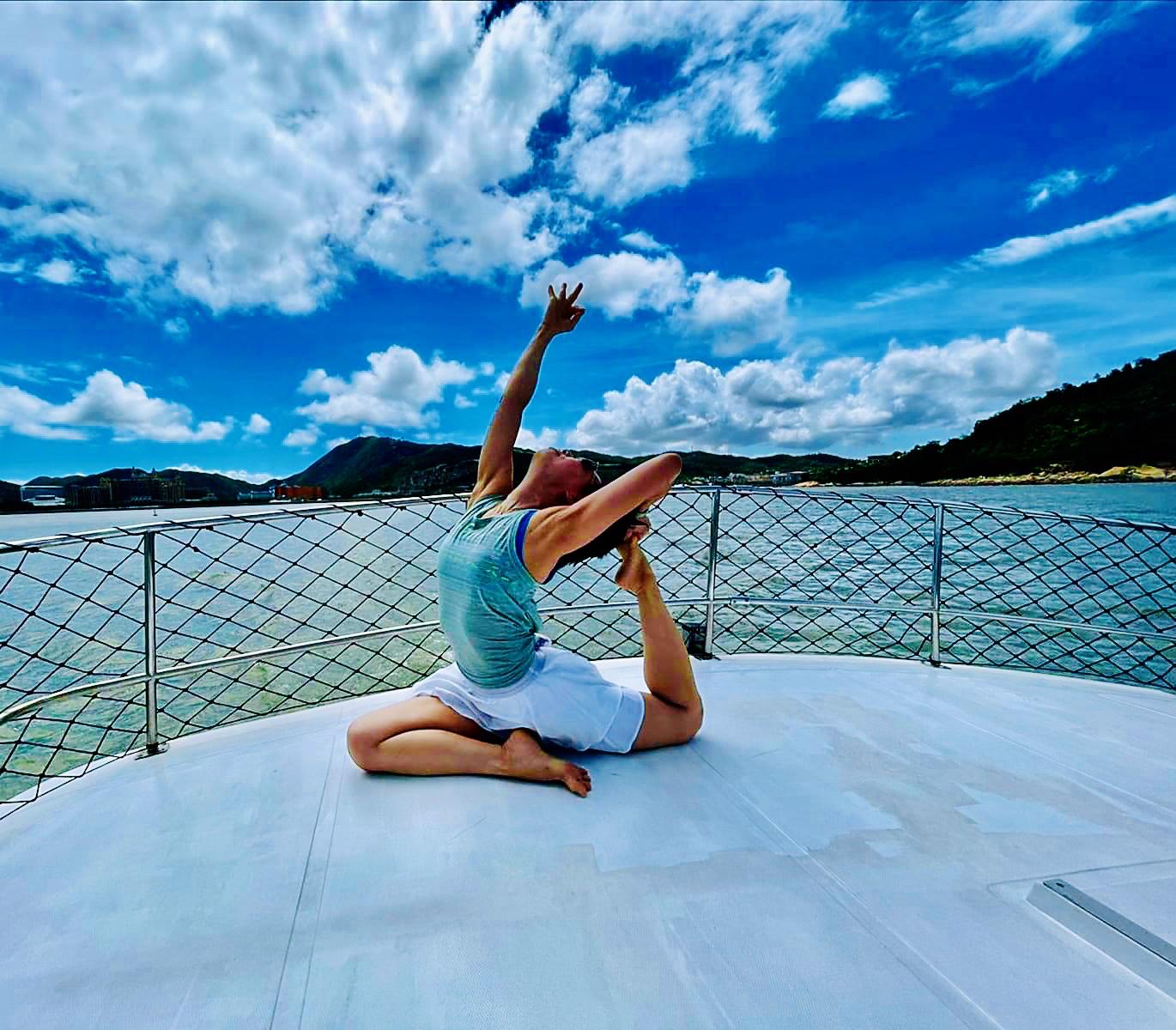 It is no secret that the pandemic has required many of us to adjust our lives. From the daily control and restrictions to the continuous uncertainty, our current environment and lifestyle have fostered many emotions most of us struggle to deal with.
And for Real Yoga student Melina, who commuted between Singapore and Macau weekly, adapting to the challenges brought by the pandemic was a journey.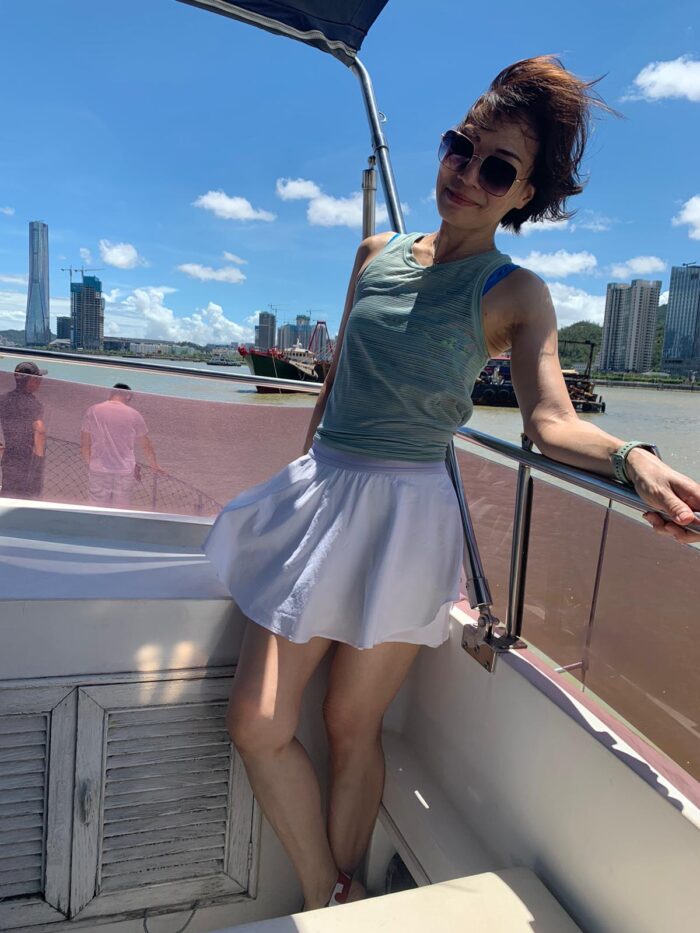 Melina is a Singaporean where she lives with her husband and two children. But since the pandemic started, her regular travels to work in Macau turned into a permanent residency she didn't expect. Because of the various travel restrictions, she hasn't been able to come home to Singapore and be with her family. And while her journey has its ups and downs, she found positivity and acceptance thanks to her yoga practice.
Nurturing A Practice With A Flexible Lifestyle
Melina started her yoga practice more than 10 years ago. And after trying various studios in Singapore, she settled at Real Yoga.
"In the recent years, I travelled between Singapore and Macau weekly, so being able to find a studio that could fit my lifestyle was important. There are plenty of great teachers in Singapore, but I liked that Real Yoga offered the opportunity to book classes using credit. When I was in town, I would come in the morning with my husband. But when in Macau, I could still attend another studio regularly which worked well for me. I loved how the teachers were cueing the class and noticed that my practice improved more and more very quickly"
When Melina got caught up in the pandemic, she was in Macau. And much like everywhere else in the world, the studios closed and everywhere implemented social distancing, the cross border travel restricted and the city went onto border closure. And leaving Macau is not an easy affair. Between the lack of transport and quarantine requirements, It was too difficult for Melina to try and come home to Singapore.
"At first, you think it's only going to be for a month or two. But the uncertainty that comes with the situation has been stressful".
To cope, Melina turned to Real Yoga's online practice at home.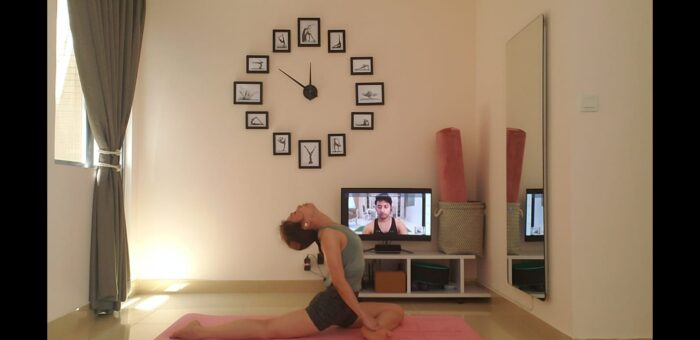 "During the lockdown, I signed up for zoom classes with Master Saumik and it was a turning point. Before I liked yoga but I was always looking around trying to follow the class. Master Saumik encouraged me to approach my practice differently, and understand what it means to be mindful. I liked Master Saumik because he articulates the cues in a way that helps you understand how your breath and movement work together. His verbal guidance and the way he taught mindfulness is so well-structured that I didn't need to observe him to achieve a pose. I can experience the practice solely on my own".
Connecting With Breath And Mindfulness In Uncertain Times
Practising at home under Master Saumik transformed the way Melina approached yoga. She joined the 10-week YTTC teacher training in October 2020 and started offering online classes of her own to her friends and colleagues. And as offices in Macau started to reopen, she also started teaching in her building.
Her yoga journey – especially through the pandemic – has helped her understand the importance of breath and mindfulness. As she's still discovering what that means in her practice, she passionately shares with others what benefited her.
"To me, yoga is not just about getting into the pose. It is the ability to use the breath to bring your mind back into your body. When you combine breath, mind, and action, you're able to focus on what your body experiences and be in the moment. And that's the essence of mindfulness. I learned a lot through the pandemic. Thanks to yoga, I started using the breath to calm my mind and accept things for what they are. I think acceptance is really important because once you realise that certain things are out of your control, you enable yourself to think of new ways to adjust and improve your life".
"As well, I think the pandemic helped people realise the value of health and breath. Taking a deep breath is a luxury. While those who were sick with Covid were struggling with ease of breathing, I realise that yoga helps to safeguard our respiratory system. I know that I no longer take my breath for granted".
Melina noticed how people were eager to be more active and responsible for their health. As her class gradually filled up with first-time students, she realised that fear stopped people from trying yoga. Fear of not wearing the latest outfits, of judgement from fellow students and the fear of comparison. These insecurities fell away when new students started to practice at home.
"There is immense value in yoga. And for people who were once reluctant to practice, I think the pandemic make them realise that. When you're at home, you don't look at others or care about what you look like. You get the chance to remove those distractions and focus on your practice. For new students, I think the focus should be on nurturing the breath and creating that connection with mindfulness and movement. And it can be as simple as focusing on the inhale and exhale. Having proper posture and body alignment helps as well".
After all, yoga is a form of healing. Yoga is not just an activity to be checked off the list, but the key to a healthy lifestyle.
So while the pandemic is still impacting in many ways our lives, it is important to nurture our health and our breath. And thanks to yoga, we all have the tools to do that. Claim your free consultation and trial session with one of our yoga consultants today. Your journey towards overcoming chronic back pain starts now.