Interview With Samantha: How Yoga Training Transformed Her Body
3 July 2021, Saturday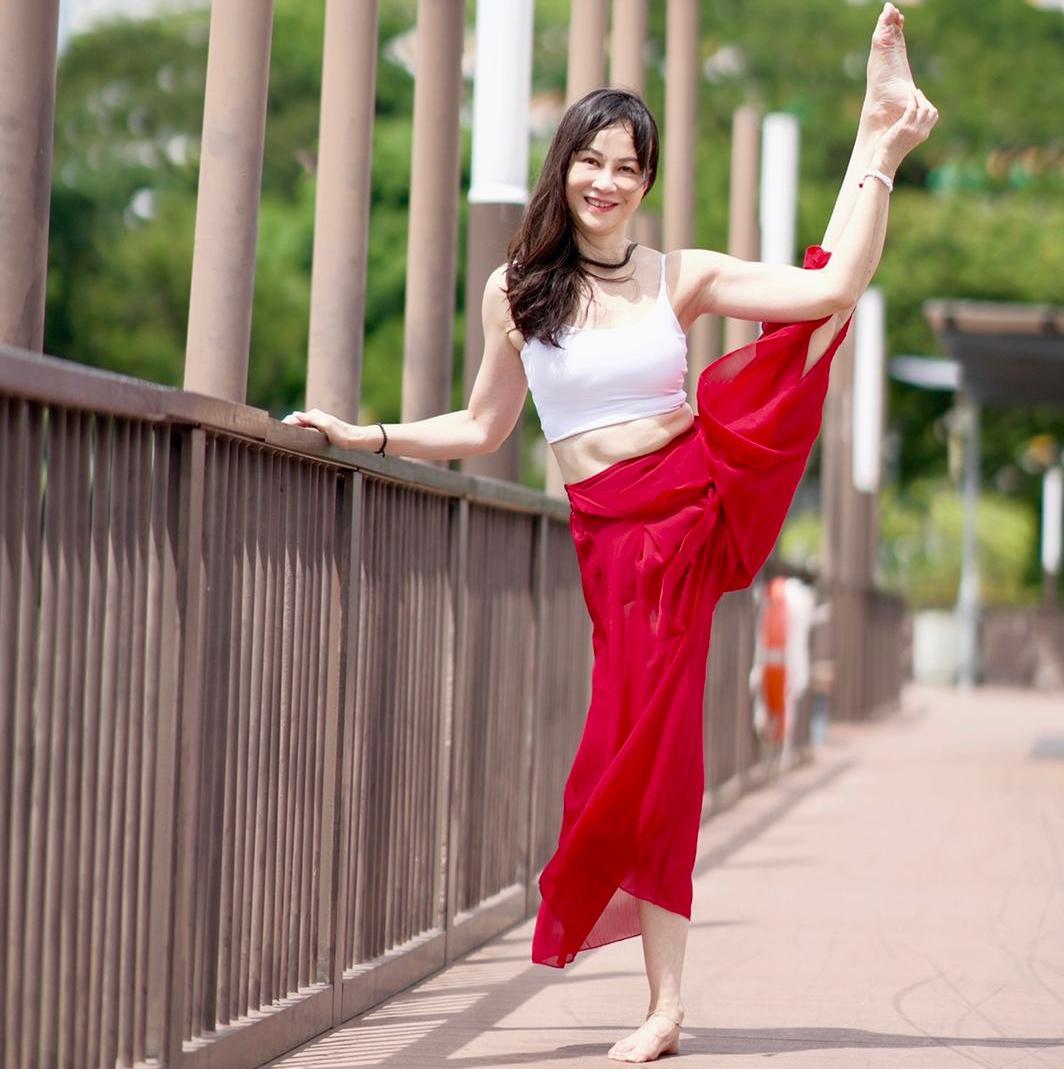 It seems that now more than ever, we are starting to experience the aftermath of our busy and sedentary lifestyle. We notice our mind struggling to cope with stress, our body chronically aching, and our overall health declining.
And for Real Yoga student Samantha, this is no different. From experiencing insomnia, anxiety, and mild scoliosis diagnosed late in her life, It took Samantha some time to nurture her body and mind back to health.
Samantha grew up in Malaysia and moved to Singapore 15 years ago. She has been a Real Yoga student for 11 years, and started practising regularly in the past four years. Back then, with her health on the decline, she turned to private yoga training with Master Saumik, and it changed her life.
Mild scoliosis caused her back to be straight instead of having a natural curve of the spine. This limits her movements and submits her to bad posture and acute pain. Her back couldn't arch, and her shoulder would hunch over.
Diving Into Private Yoga Training
"When I joined Real Yoga near my house, I started personal training once a week with Master Saumik. It was soon after I was diagnosed with scoliosis. What I loved about private training is that the practice was very personal and tailored for my own needs".
"Master Saumik can quickly pick up what your body needs, and every session can be very different. Sometimes, I tell him that my neck feels stiff and he focuses on that, but I found that most times he knows what I need even if I don't say anything".
"Through his classes, Master Saumik has taught me that everybody is different. My body has different needs from someone else, and these needs change every day depending on my lifestyle".  
"For example, when I don't sleep well at night, my body can be very stiff the next morning. So now I pay attention to that. I notice that the same yoga pose can feel different in my body. Some days I can do difficult poses, while on other days I can't. It doesn't mean I'm not improving, but it raises my awareness of the body and how it functions".
During the pandemic, Samantha kept up with her personal training online. She notes that while in class, she used to fall into the trap of "monkey-say monkey-do", often mirroring other students' movements without thought. Online training has helped her nurture more awareness of her practice.
"Master Saumik cues in a way that just listening is enough. His eyes are very sharp and can pick up the exact alignment you need to make the pose feel better. During the pandemic, he taught me a lot about mindful breathing. I found that breathing helps prepare you for practice. Mindful and intentional breathing is different from our day-to-day breathing".
Experiencing Body Awareness
With a 90-minute session long to give her body enough time to warm up and get into the practice, Samantha started seeing Master Saumik four times a week. Along with a few chiropractic visits, she quickly noticed the positive impact her yoga training was having on her overall wellbeing.
"Physically, My posture has improved tremendously with yoga. I'm less hunch over, and my shoulders are more straight. When I first started yoga, there were some poses I could do on one side of my body but not the other. Now, while there are still days when I'm stiff, my body just feels much better. My chiropractor even said I had a rapid recovery around my scoliosis because, in only one year, my body alignment has completely transformed".
"Mentally, I have also noticed a shift. I'm a very light sleeper and used to have insomnia. Every little noise in the house would wake me up. But thanks to yoga, I now sleep more soundly. During classes, we use the breath to bring awareness back into the body. And I notice that when I breathe mindfully, my body and my mind function better".
"I do tend to feel anxious, stress, and burned out quite often. But with my practice, I found that I'm not triggered as easily by things around me. Yoga gave me the tools to calm my mind down and let go. The more I practice, the more I notice that my temper is balanced and resilient. I don't get so easily upset anymore".
Diving Deeper Into a Personal Practice
Samantha notes that developing a personal yoga practice also helped her detach from the idea that material things equal happiness. Rather than spend energy and money on clothes, bags, or the latest gadgets, she now shifts her focus to yoga, which brings her a lot of joy.
She recalls joining the Yoga Teachers Training Course (YTTC) 10-week program just before the pandemic. Samantha didn't intend to necessarily teach. Instead, she wanted to learn more about yoga and how it can benefit the body.
"The YTTC training really helped me with my practice. I joined the training in Bali for 2 weeks, and it was intense, practising and learning all day, every day. But I knew I could do it. I'm so grateful because the training taught me a lot not only about the traditional side of yoga, but also about alignment, breathing, and how it all works with my own body".
"Although I don't like public speaking, I now teach yoga once a week to a class of 20 people at the Real Yoga Toa Payoh studio. I'm proud of my yoga journey and becoming a teacher".
"My advice to any new students is just to start practising because it will benefit your body. Do not be limited by your mindset. As you grow older, the body becomes stiffer, and the ligaments harden. I think adding yoga as a complement to your exercise routine – whether that's running or biking – is a great way to stretch out the tightness and maintain flexibility into old age".
"You can start like me, simply going once a week, and increase the frequency over time. Yoga can help anyone – men and women alike – bring fluidity and movement back into their own body".
Samantha has felt and seen how a regular yoga practice can rapidly nurture good posture and overall health. And from her perspective, all you have to do to experience the benefits of yoga is simply to start.
Claim your free consultation and trial session with one of our experienced yoga consultants today. There's no better time to start caring for your body.