Toa Payoh Reopening 2023
30 June 2023, Friday
The rumors are true! The new Toa Payoh studio we've all been waiting for is just around the corner!
Yes, you heard it right! wait is finally over!  We are thrilled to announce that our beloved yoga studio is reopening its doors on the 14𝐭𝐡 𝐨𝐟 𝐉𝐮𝐥𝐲, and we can't wait to welcome you all back with open hearts and smiling faces. 😊✨ Before the official reopening, we invite you to join us for a mesmerizing Fire Ritual Ceremony in the morning of the 13th of July. 🌄🌸 Witness the symbolic cleansing and transformation as we embrace the power of fire and set intentions for a beautiful new beginning. It's a magical experience you won't want to miss! ✨🔥
 To celebrate this joyous occasion, we have prepared this re-opening special day filled with goodness and surprises just for you! Indulge in refreshing beverages, titbits, door gifts and a warm community atmosphere that will make you feel right at home. 🍵🌸🍪
But that's not all! We have an exciting lineup of special classes planned, designed to ignite your inner spark, restore your balance, and rejuvenate your spirit. From invigorating flow sessions to soothing yin practices, there's something for everyone to enjoy. 🌟🧘‍♀️ Check latest schedule below and book your class now, limited slots available.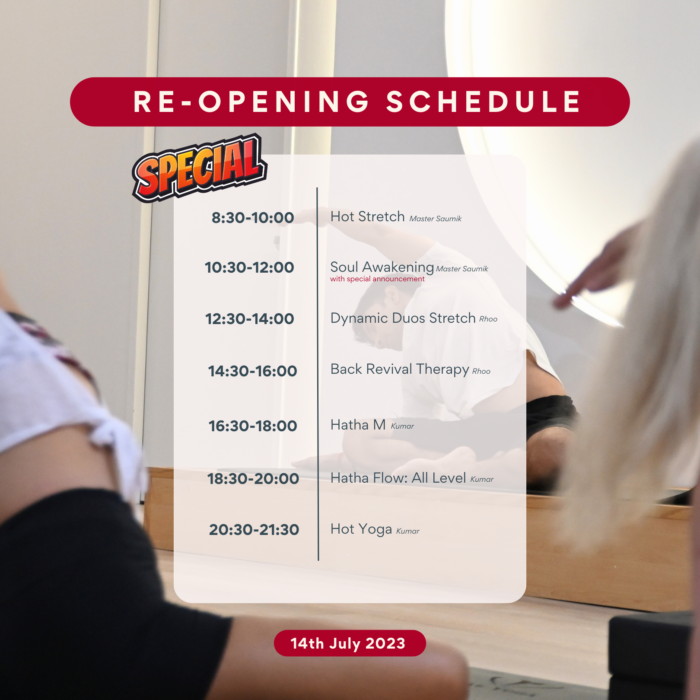 In preparation for our grand unveiling on July 8th , we're taking all of our yoga classes virtual for one exciting week. During this time, our physical studio will be taking a short break to transform into a haven of zen and bliss from 1st July to 12th July. But don't worry, we've got you covered with a range of amazing classes that will keep your spirits soaring and your practice flourishing.
You will have access to all virtual & in-studio classes conducting in Tampines and Jurong. Please contact your consultant for in-studio class booking. So, get ready to experience the magic from the comfort of your own space.
We can't thank you enough for your unwavering support and understanding during this transition. Your dedication to your practice inspires us every day, and we can't wait to embark on this new chapter together.
So get ready to roll out your mat, put on your favorite leggings, and let's dive into a week of unforgettable virtual yoga adventures. The wait is almost over, my friends. The new studio is just a few downward dogs away!
Kindly RSVP and we can't wait to see you there, radiant souls!
---
Re-opening Celebration: Rewards Worth Up to $500 Learn More
Best Friend Forever Special 20% OFF Learn More
200 Hours Yoga Teachers Training Course Learn More
Yoga Therapy for Autonomic Nervous System & Special Needs Learn More